Zines available from Whoop Distro
These are zines made by the same people who create the Slingshot organizer and newspaper, plus our friends, lovers, ex-lovers or future lovers. They are printed with a copy machine on paper.
Cometbus issue #57 – $5
90 pages perfect bound – 8.5 X 5.5 inches
A super compelling series of interviews about comics that touches on
issues of the underground vs. the mainstream, doing projects long-term, and
the nature of creativity.
.
.
.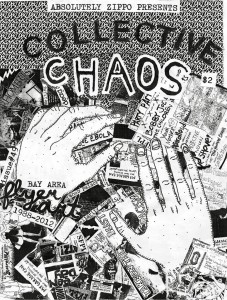 Absolutely Zippo #49 – $2.00
127 Bay Area punk fliers – 8.5 X 11 inches – 46 pages
long-running zine by Robert Eggplant
Counterbalance:  What Sustains us, What stops us – $4.00
Essays by Kristi & friends about activism and mental health.  5.5 X 8.5 inches, 40 pages.