t-shirts
Whoop Distro T-shirts!
email us to order – $15 plus postage – please suggest black, olive green or red and say size:  xs, s, m, l, xl, xxl
These shirts are hand printed in our basement using non-toxic, water based inks on 100% cotton, USA-manufactured shirts. The shirts are from AS Tees and have a cut similar to American Apparel, i.e. they are all cut very small so they fit snug. The women's cuts are tiny – "large" actually is pretty darn small, so beware. The designs were created by radical artists as noted, below.
When ordering, tell us your 1st and 2nd choices for color as well as a back-up choice in case we don't have those colors in stock. We always have red and black in stock in all sizes. Please note: it may take us a few more days to send out shirts than it does to send out organizers or books since we may have to print the shirt up for you. You can also order without using Paypal by sending a check or money order to Whoop Distro PO Box 3885 Berkeley, CA 97403.
Smash your TV – $15
.
.
.
.
Long Live Anarchy – $15
.
.
.
.
Resistance is Fertile – $15
Image is a stencil by KT Buttler – lettering cut with razor a blade by artnoose
.
.
.
.
Rent is Theft – $15
Original art by Long Haul infoshop volunteers
.
.
.
.
Practice Mutual Aid – $15
Drawing by Moxy
.
.
Have you Hugged and Anarchist Today? – $15
.
.
.
.
.
Smash Patriarchy – $15
.
.
.
One World – No Borders – $15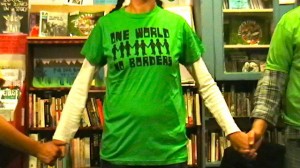 Smash Capitalism – $15